CIMC flatbed semi trailer is the best choice
Table of Contents
1.CIMC Flatbed semi trailer buying guide
2.How to operate CIMC flatbed semi trailer--Loading containers with CIMC flatbed trailer
3.Application of the CIMC flatbed semi trailer
4.Basic Specifications of the Flatbed Trailer
5.CIMC flatbed semi trailer package and shipping
6.What is the manufacturing process of container flatbed semi-trailer?
7.Here are a few more important points
8.The Main Features of the Flatbed Trailer
1.CIMC Flatbed Semi Trailer Buying Guide
CIMC flatbed trailer is a kind of trailer whose design is suitably made to carry bulk cargo and containers between shipping facilities and terminals.By simple definition, this is a long flat platform of either 20ft, 40ft, 48ft or 53ft length.Flatbed semi trailer is usually used to transport 20ft or 40ft containers, they are mainly used for container transportation supporting ships, ports, shipping lanes, highways, transit stations, bridges, tunnels, and multimodal transport.
The flatbed trailer has no roof or walls to the side.It is a bare platform on which different container sizes are secured using container locks ready for transportation. They are primarily used for the transportation of bulk cargo.CIMC also have several special models to choose from, like interlink Flatbed Trailer and drawer flatbed trailer.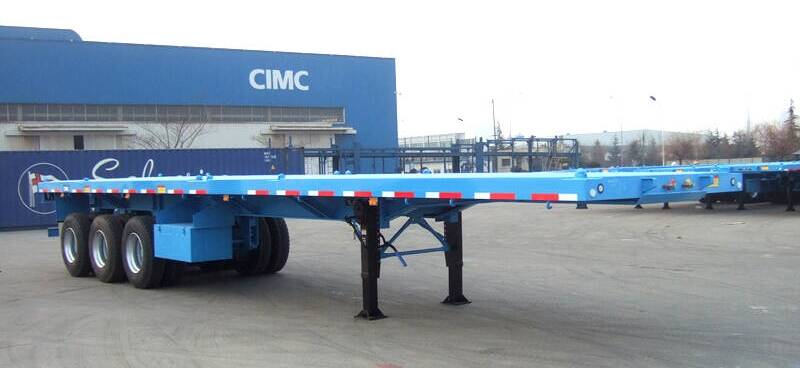 Tri axle CIMC flatbed semi trailer for sale
40Ft CIMC Flatbed Semi Trailer With Front Wall
4 Axle Flatbed Container Trailer
Common flat top semi trailer has four types according to the number of axles, which are the 2 axle 40 foot flatbed semi trailers, 3 axle 40ft flatbed trailers, 4 axles 40 foot flat platform truck trailer, and the single point suspension logistics trailer.
According to the different types of transport containers, there are 4 types, 20ft container carrier trailer, 40 foot shipping container trailer, 45ft commercial flat body trailer, and 20/40ft multi-purpose utility trailer.CIMC can also offer the 48ft, 53ft and other flatbed trailer sizes.
2.How to operate CIMC flatbed semi trailer--Loading containers with CIMC flatbed trailer
Before the high bed semi trailer are loaded into the container, the used turn lock head should be completely overlapped with the lock seat and fixed. Then the container is correctly placed on the semi trailer, and then the turn lock handle is turned lock the container vertically with the lock head and the lock seat.Before unloading the container, the turn lock should be turned to the position where the lock head overlaps with the lock seat and fixed, and the container can be removed only after it is confirmed that the container is not locked.
3.Application of the CIMC flatbed semi trailer
The size of the CIMC container trailer loading area is determined according to the standard container size.A twist lock device for fixing the container is provided at positions corresponding to the four corners of the bottom of the container. Flatbed trailers are a special trailers for transporting containers.And thanks for our Jamaica customers feedback.He transports bulk cargo by CIMC flatbed semi trailer.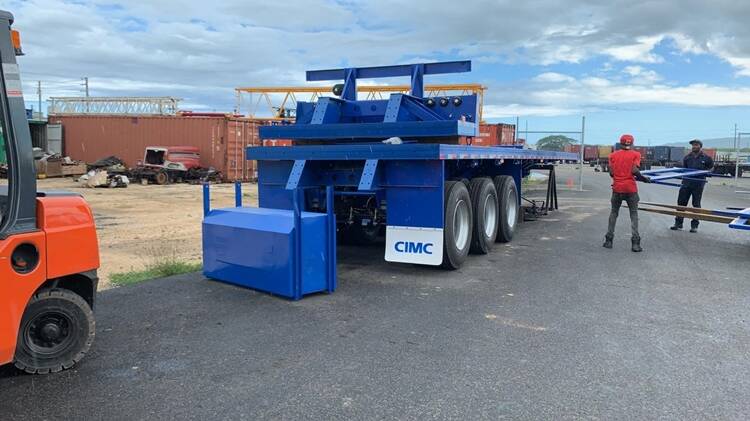 Customer feedback about 20Ft Container Semi Trailer
The function of a flatbed trailer is made possible through its structure's design and manufacture.Basically, it is a transport equipment mainly of a steel construction defining its frame. It also comprises a lighting system, brakes and tires.It is carefully designed to desired heights and weight capacity to safely load and transport cargoes from one location to another.Use platform trailers to transfer cargo at the shipper's warehouse. Unloaded to the consignee's warehouse, when changing trailer or boat on the way, there is no need to take the goods out of the box and change them.
4.Basic Specifications of the CIMC Flatbed Trailer
Each flatbed trailer comes with its own load rating, size alongside other systems as would be needed for its use. These specifications are very useful in helping you buy the right trailer for your operations.The tables below show key specifications of the 20ft and 40ft flatbed trailers respectively.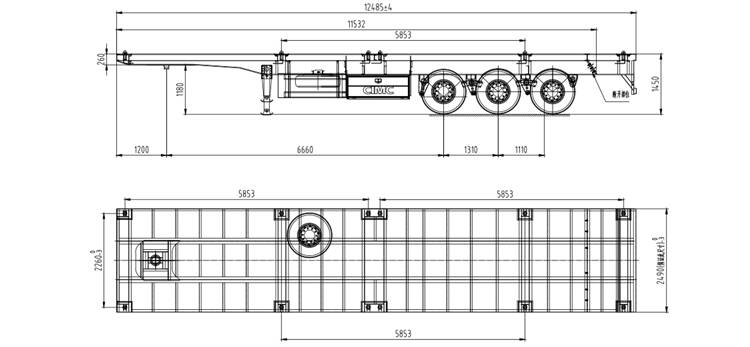 Container Semi Trailer
Model: 3 Axle Flatbed Truck Trailer
Transport: 20ft, 40ft container
Overall dimension: 12500mm * 2500mm *1530mm
Axles: 3 axles , 13t
Suspension: Heavy duty mechanical suspension
Tire: 12 units
King pin: 90#
Langing gear: JOST
Brake system: WABCO
Electical system: 24V, LED lights
5.CIMC Flatbed Semi Trailer Package and Shipping
As a professional manufacturer, CIMC have provided many kinds of semi trailers for many countries, we have much more advantages in the flatbed trailers cost and quality control.All semi trailer will undergo rigorous testing before delivery to ensure the quality. We have professional technicians to operate. In addition, a layer of wax will be sprayed on the semi-trailer to prevent seawater erosion, and then a layer of rain cloth will be wrapped to prevent moisture, so that it is foolproof.
CIMC Semi Truck Flatbed Trailer Package
6.What is the Manufacturing Process of Container CIMC Flatbed Semi Trailer?
1. Welded CIMC container flatbed semi trailers work platform, welded side beams, main beams, welded kingpins, welded suspension, welded bottom floor.
2. Flatbed trailers derusting, frosting, spraying primer, spraying paint, wax spraying; installing axles; installing tires.
Manufacturing Process of Container Flatbed Semi Trailer
3. Engineers provide drawings based on platform semi trailer data and customer requirements and then distributed the drawings to the workers in the production department.
4. According to the drawings of each part produced by the design department, use a CNC cutting machine to cut each part, such as the steel plate for the main beam and the reinforcing plate.
5. Print VIN code, waiting for packing.
7.Here are a Few More Important Points
1. Working platform of container flatbed semi-trailer
The work platfrom is the main load-bearing part, which is composed of the main beam, side beam, cross beam, bottom floor, suspension and so on. The main beam should pay attention to whether the thickness is an international standard. The international standard for the main beam of a container flat semi trailer is 14/8/16 mm. The steel plate in the middle of the beam is made of Q345B manganese steel, the thickness is 8mm. Many unreliable suppliers will use 6mm main beam to save costs. But the carrying capacity was reduced by 26%.
2. Axle of flatbed truck trailer
The axles of semi trailers for sale have three types: 13-ton axles, 13-ton axles, and 16-ton brake system axles, 16-ton axles.
The axle of the CIMC container flatbed semi trailers is a 13-ton axle and 16-ton brake system axle, which has better braking performance and shortens the braking distance by more than 5 meters.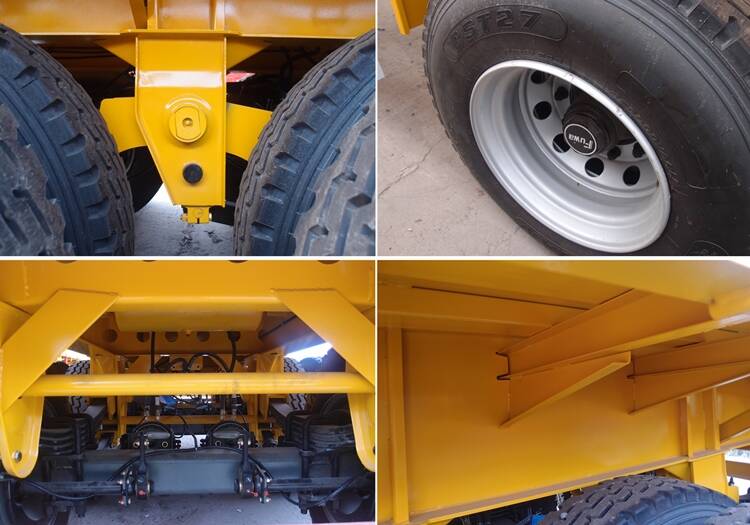 Details of CIMC Flatbed Semi Trailer
3. Suspension of container flatbed trailers
CIMC flatbed trailers common mechanical suspension adopts special high strength steel. 6mm thickness. The center pin diameter is 70mm. Stronger than suspensions in many factories.
And we also have bogie suspension and airbag suspension for you to choose.
4. Tire of flat deck trailer
The 3 axle flatbed trailer uses a vacuum tire with better heat dissipation performance, the model is 12R22.5.
CIMC flatbed container uses custom made tires in a tire factory, wear-resistant tires. On Chinese highways, CIMC tires can reach more than 300,000 kilometers.
5. Bottom floor of flatbed container trailer
Bottom Floor, many logistics trailer also can transport bulk cargo and other items. The bottom plate of the CIMC high bed trailer passes the international standard 3mm thick checkered plate. If it use 2mm thick pattern plate or a 2.5mm bottom plate. It will cost less $ 700. Tri axle equipment trailer weight limit is 60ton capacity.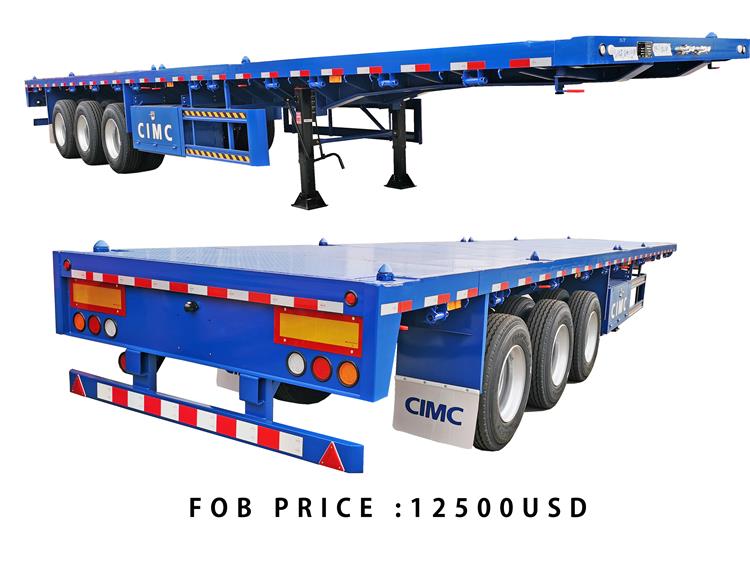 8.The Main Features of the Flatbed Trailer
Flatbed trailer is a semi-trailer specially used for transporting containers. It is composed of car body, axle group, suspension system, bogie and axle, etc.
The bracket frame is adopted, which can bear a large load. The Flatbed trailer needs to carry loaded 20-foot or 40-foot containers, and the load is relatively large, so a sufficiently strong frame structure is required.
The use of the suspension system can ensure the comfort and stability of the vehicle. Because of the large load, the use of suspension can reduce the burden on the axle, and can also absorb vibration during driving to improve comfort.
With bogies, a smaller turning radius can be achieved. The 40 ft flatbed trailer is necessary when turning in tight spaces.
The steel box body is used to carry and fix the container easily. The inner wall of the box is usually equipped with anchoring devices, which can firmly fix the container and prevent it from moving during transportation.
The axle adopts slope arm type or independent suspension type to increase the bearing capacity of the axle to the vertical load of the container.
It is usually equipped with an air-assisted bogie, which can easily realize roundabout transportation.
The 40 foot flatbed trailer is widely used in short-distance and medium-distance transportation of road transport containers. It greatly improves the transport efficiency of containers on land, and is an indispensable and important means of transport for modern logistics transport.