CIMC Bulk Tanker Cement Powder Tankers Description:
CIMC Cement Bulker the volume varies widely from 25 cube meters to 60 cube meters, we can manufacture it according to your needs.The frame of bulk lime powder goods truck trailer is made of high strength national standard steel, and the weight of the vehicle is light, and its resistance to distortion, earthquake resistance and bump can be guaranteed to meet the requirements of different pavement.
For the important parts, we adopt a famous brand for our cement tank trailer, like diesel engine : Weichai Styer turbo-charged diesel engine is high power and torque, low fuel consumption and noise, high reliability. it save costs & ensure long-time service.for the diesel engine type , we replace the 4105 as 4102 type , the power increase the 7% for the bulk tanker ,and the service life is about 8 years .
Finally, CIMC prepares the most inspection equipment and keeps the inspection as precise as possible, All the CIMC Cement Bulker have passed the tank body's pressure and sealing test before they come to our customer.Hydrostatic test is one of the pressure tests.We should try out all the tank trailer before using , it is a critical step to test the macro strength of the tanker (whether cracks occur, whether it is deformed too much) and checking all sealing pointsand the sealing condition of the welding.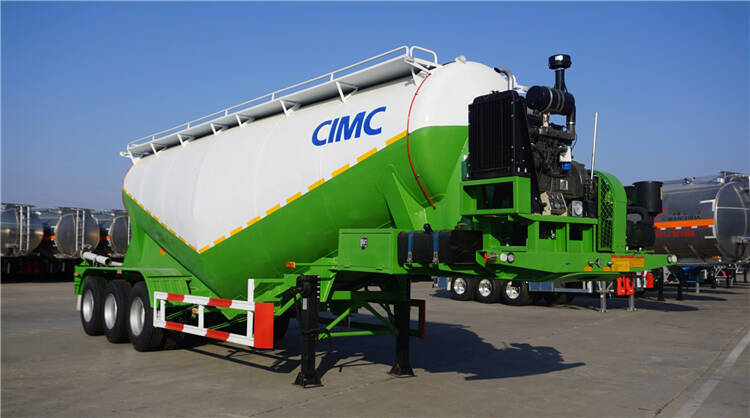 CIMC 40 tons bulk cement trailers for sale
CIMC pneumatic carrier tank trailer
CIMC 40T Cement Bulker
Specification:
Brand: CIMC bulk powder tankers
Total Volume (m3): 25 cbm ~60 cbm
Tanker Body Material: 5mm or 6mm/ high strength wear-resistance steel
Diesel Engine: WEICHAI 4105 Brand
Compressor: BOHAI, FUDA 12m3/14 m3or other brands
Manhole Cover: Carbon steel or Aluminum 500mm(Diameter)
Discharging Valve: Diameter is 3 or 4 inch
Main Beams: Welded design, High Strength Steel
Axle: 3 axles, 14 ton
Suspension: Mechanical suspension