CIMC Vehicles (Group) Co., Ltd ("CIMC Vehicle" Stock Code: 1839) . began to manufacture and sell semi-trailers in 2002, and have been the world's largest semi-trailer manufacturer in terms of total sales volume for consecutive since 2013.
CIMC primarily engage in the manufacture and sale of semi-trailers and truck bodies for specialty vehicles. ChinaCIMC is a leading Chinese Semi trailer exporter. Chinacimc.com is a professional trading firm, specializing in providing international markets with a variety of CIMC SEMI TRAILER.
As a CIMC semi trailer supplier, cimc trailers is positioned strategically in the global market .
And the products are mailnly exported to Nigeria , Kenya , Ghana , Congo , Angola , Senegal , Mali , Algeria , Zambia , Zimbabwe , Ethiopia , Djibouti , Sudan , Vietma , Malaysia , Thailand , Bangladesh , Philippines , and other overseas market.
Large R&D team, Strict quality control, Professional service - Our comany is your best choice of long-term partner!
CIMC most popular tri axle 40 ft container flatbed trailer - Spot Promotion Price: 11900 USD
Specification
Overall L*W*H: 12,500*2,500*1,430 mm
Payload: 60 tons
Axles: 3 units, Fuwa brand
Tires: 12 units
Landing gear: JOST
Kingpin: 50(2inch)#or 90(3.5inch)# bolted type
Suspension: Mechanical suspension
Brake system: WABCO brake system with dual brake chambers and emergency brake valve
Container lock: 12 pcs
Accessories: Tool box , spare tire carrier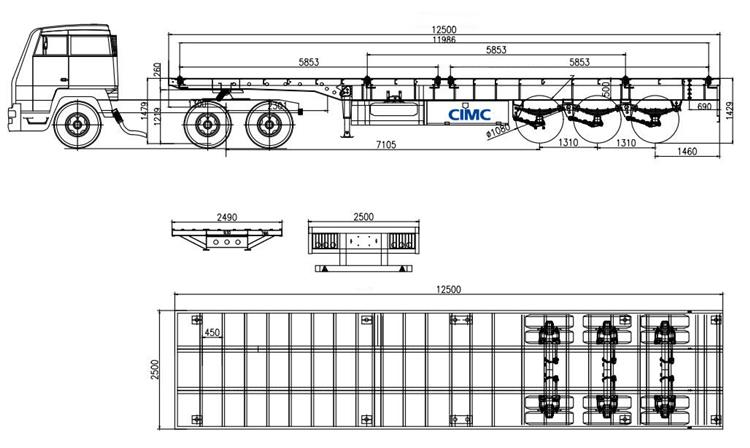 Hot Sale Semi Trailer
CIMC China | CIMC Trailers for Sale | CIMC Vehicles Group Co.,Ltd | CIMC Trailer Manufacturer
CIMC China | CIMC Trailers for Sale | CIMC Vehicles Group Co.,Ltd | CIMC Trailer Manufacturer