What is a tri axle trailer?
CIMC tri axle flatbed trailer is a kind of trailer whose design is suitably made to carry bulk cargo and containers between shipping facilities and terminals.
By simple definition, this is a long flat platform of either 20ft, 40ft, 48ft or 53ft length used for carrying shipping containers. The tri axle flatbed trailer has no roof or walls to the side. Tri axle trailer is usually used to transport 20ft or 40ft containers, they are mainly used for container transportation supporting ships, ports, shipping lanes, highways, transit stations, bridges, tunnels, and multimodal transport.
What size does the tri axle trailer have?
CIMC tri axle flatbed trailer for sale, 40ft is the most popular model.
According to the length, we can also offer the 20ft, 45ft, 48ft, 53ft flatbed trailer for sale.
For the types, we can also make the flatbed with side wall, side panel with fence, or with front board, or with columns to load the logs.
How much weight can you put on a tri axle trailer?
CIMC has 2axles/3axles/4axles flatbed trailer for sale, the capacity from 35 ton to 60 ton.
Tri axle trailer specifications:
Dimension:
Length: Approx 12,400 mm
Width: Approx 2,480 mm(including mudguard)
Height: Approx 1,600mm @ unload
Weight:
Tare Weight (Tolerance 0~-4%): Approx 7,500 kg
Max. Payload: Approx 40,000 kg
Gross Vehicle Weight: Approx 47,500 kg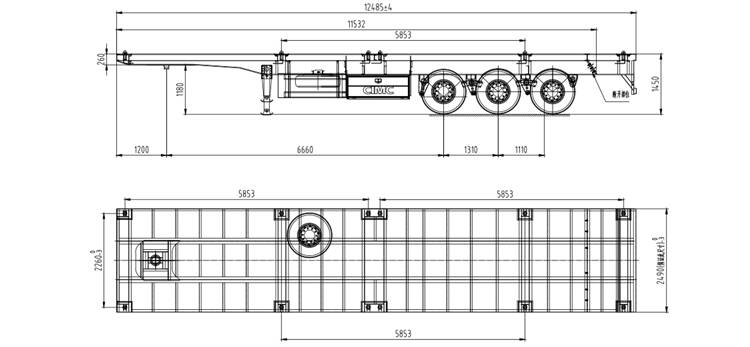 Steel Structure:
1. Material: High strength low alloy steel Q345 and Q235 is used for welded I-beam and fabricated parts.
OEM Parts Configuration, floor: wood 310mm in thickness.
2. King Pin: 3.5" bolted kingpin. Brand: JOST.
3. Twist Lock: 12 units ISO retractable twist locks.
4. Landing Gear: JOST E100 landing gear.
5. Suspension: Heavy duty mechanical spring suspension with equalizer, 8-leaf spring.
6. Axles: 3*13 tons capacity, Fuwa brand axle (cimc, bpw, L1,yuerk brand axle is optional)
7. Tires: 12R22.5, tubeless tire. 13pcs. Made in China.
8. Brake System: Dual air brake system, WABCO relay valve, No ABS system.
9. Brake Chamber: double-structure air brake chamber.
10. Electrical System: 24-volt lighting system, 7-way receptacle, Chinese standard.
Application of the CIMC tri axle trailer
The size of the CIMC tri axle trailer loading area is determined according to the standard container size. A twist lock device for fixing the container is provided at positions corresponding to the four corners of the bottom of the container. Tri axle flatbed trailers are a special trailers for transporting containers.
The function of a tri axle flatbed trailer is made possible through its structure's design and manufacture. Basically, it is a transport equipment mainly of a steel construction defining its frame. It also comprises a lighting system, brakes and tires. It is carefully designed to desired heights and weight capacity to safely load and transport cargoes from one location to another. Use tri axle trailers to transfer cargo at the shipper's warehouse. Unloaded to the consignee's warehouse, when changing trailer or boat on the way, there is no need to take the goods out of the box and change them.
And thanks for our Jamaica customers feedback. He transports bulk cargo by CIMC tri axle trailer.