CIMC 40000L Tanker Trailer

Description:
CIMC mainly provides different types of diesel tank trailers for the transport of fuel, diesel, water and any other liquid materials, one of which is the type of diesel trailer .
CIMC diesel tank trailer can reach 90000 liters and 4 axle. The CIMC Diesel tank trailer can provide 1-7 cabins of diesel fuel trailer for sale, which can be produced according to customer requirements.
CIMC pays attention to the quality of products, the liquid will produce great tension and impact in the course of transportation, so the CIMC diesel fuel trailer for sale must be thick and solid, welded joints without defects, our tank trailer thickness is up to 6mm.
Diesel tanker trailer for sale
CIMC 3 Axle 40000 Liters Diesel fuel Trailer for Sale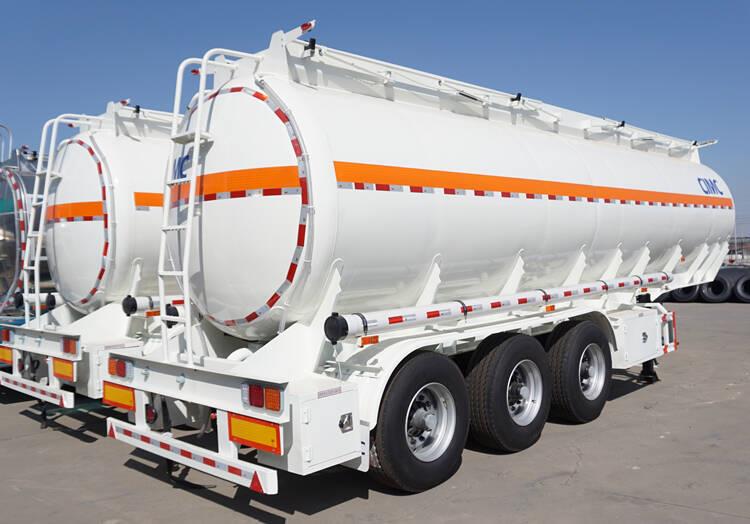 CIMC 40000L Tanker Trailer Specification:
Dimension: 11000mm*2500mm*3700mm(the exact size depends on the final design)
Volume: 40000liters
Application: transport Fuel, Oil, Diesel
Tank body:
Material: Carbon steel
Tank body and separate compartment plate: 6mm
Compartments: 1 to 7 compartments, based on customer needs
Manhole cover: Carton steel or Aluminum alloy API manhole cover 500mm (diameter)
Discharge valve: Diameter is 3 or 4 inch
Bottom valve: Aluminum API Pneumatic Bottom Valve
Tanker body test: Hydrostatic test to 5 psi (35 Kpa) on each compartment
Chassis:
Axles: 3 units, FUWA/BPW/CIMC/other
Landing Gear: JOST brand
King Pin: JOST brand 2.0 or 3.5inch(bolted or welded type)
Suspension: Mechanical suspension or air suspension
Brake System: WABCO
Tire: 12.00R22.5/315.80R22.5/11.00R20/12.00R20 brand can be optional